Static / Wall Mounted pressure washer Guide
PPT Services can supply a range of Static / Wall-Mounted Pressure Washers suitable for a wide variety of applications.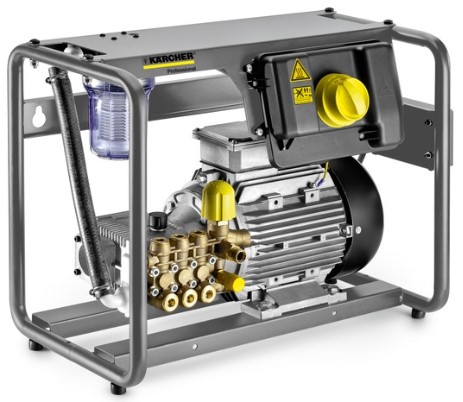 The HD 7/16-4 Cage Classic is a robust, easy to operate pressure washer. The machine is designed for long operational periods in harsh conditions performing reliably during various cleaning tasks.
The large water filter protects the powerful crankshaft pump. Mechanical toggle switch combines energy saving together with ease of use and protects the gun from being damaged. The robust cage frame provides machine protection and allows the unit to be wall or floor mounted.
Applications:-
Vehicle cleaning, Workshop cleaning, Cleaning outdoor areas
Service station cleaning, & Swimming pool cleaning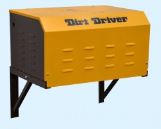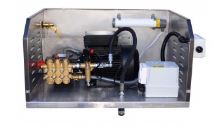 Prices available on request
A complete range of Wall Mounted Cold Washers is available either in heavy-duty painted metal construction, or in bright annealed stainless steel. 
The advantage of these units will be immediately obvious – no floor space required; a permanent installation; simple controls; automatic stop facility; wall mounting brackets; lockable cabinet. Pressures and volumes vary from the single phase 1500 psi/ 12 LPM to the large Three Phase 3000/15 LPM or 2300/18 LPM.
As an optional extra and to protect against the elements, the Wall Mounted Units can be supplied in a larger cabinet with a thermostatically controlled heater.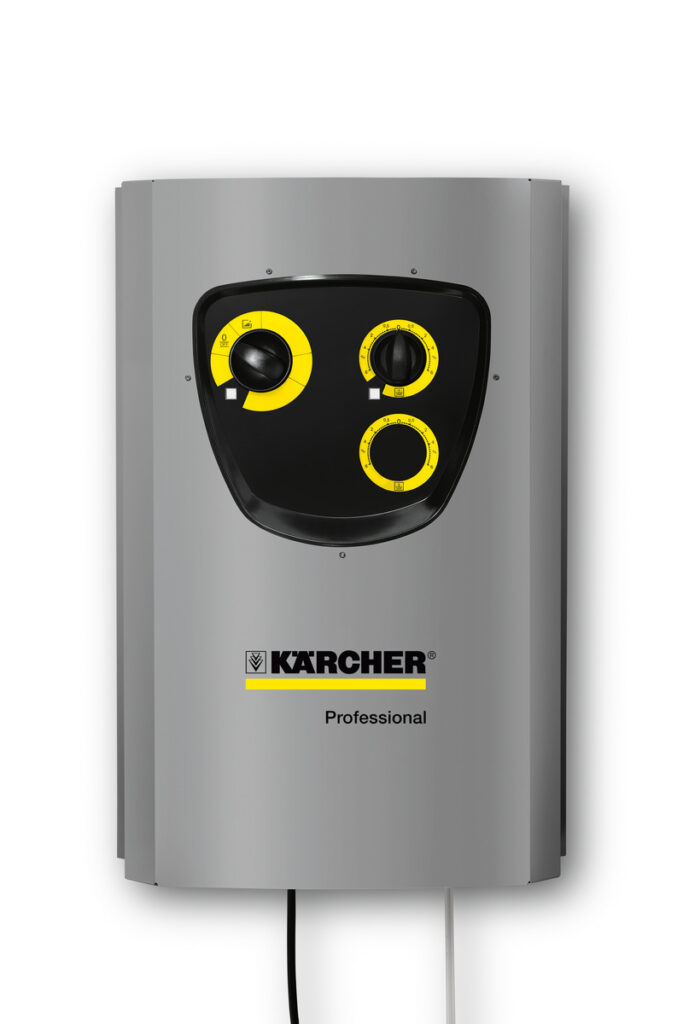 Prices available on request
New generation Kärcher Wall-Mounted Pressure Washer, 180 bar / 15 litres / minute.
The particular strength of the new generation of Kärcher Cold Water High-Pressure Cleaners is that they can be individually configured. This means that buyers only pay for precisely the equipment features which are really needed.
Individual options can be easily retrofitted at a later date on request. These stationary high-pressure cleaners do not heat themselves – but they do tolerate water feed temperatures of 70°C (standard) up to 85°C (optional).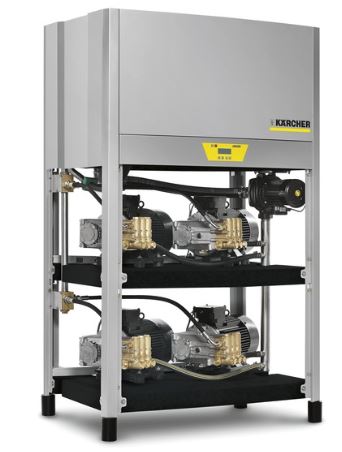 Prices available on request
Stationary high-pressure cleaner for the simultaneous use of 2 to 8 take-off points
The Kärcher HDC range consists of three models – Classic, Standard and Advanced. These units can be configured specifically to meet customers' requirements due to the diversity of the base units and the variety of accessories available.
The innovative engineering and sophisticated features of Kärcher's HDC units offer many advantages. Maximum performance combined with ease of use, longevity and a high degree of safety characterise the HDC range. Whatever your specific requirements are for high-pressure cleaning, Kärcher will be happy to advise you in planning your stationary system.